[caption id="attachment_2163" align="aligncenter" width="300" caption="Bill Marshall signs copies of his book A Cultural Portrait of Orange"]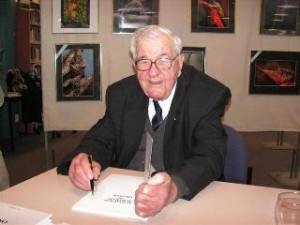 [/caption]
More than 80 family, friends, members of the Arts community and well wishers attended the launch of Bill Marshall's book A Cultural Portrait of Orange on Thursday 7th June. MC for the evening was Council's Director of Human Services Michael Milston, while Orange Mayor John Davis welcomed the crowd and praised Bill for his efforts in supporting the Arts during Bill's time as Orange's Town Clerk, and local author Lis Edwards spoke of Bill's writing skills and attention to detail when working on the book.
Bill said the book is part four in his autobiography and he sought to paint a portrait of Orange to illustrate the development of the city as an important centre of culture in Australia
"I believe this proud and illuminating story must be recorded and passed on to the City of Orange and its residents as an important part of their heritage," he said. Mr Marshall's interest in and knowledge of cultural history emanates from his long and distinguished service to local government and in particular Orange City Council as Deputy Town Clerk from 1968 to 1971 and Town Clerk from 1971 to 1987.
The book documents the many groups involved in Orange's cultural scene including amateur theatre, music, writing, Central West Libraries, Orange Civic Theatre, Orange Regional Art Gallery, history and all aspects of the Arts. It is available for sale from Orange City Library. Congratulations to all involved.