[caption id="attachment_2134" align="aligncenter" width="250" caption="Poetry Slam host Miles Merrill will be at Grenfell"]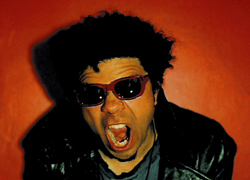 [/caption]
The 2012 Grenfell heat of the Australian Poetry Slam on June 9th is run in conjunction with the Grenfell Henry Lawson Festival of Arts as a feature event on the program. The festival is thrilled at the prospect of continuing to develop its connection with Word Travels front man and Performance Poet Miles Merrill. This will be the third consecutive year the Henry Lawson Festival has proudly hosted a heat in the Poetry Slam. Miles will co host the Grenfell Henry Lawson Festival Australian Poetry Slam heat with Sydney based Writer, Story Teller and Performance Artist Candy Royalle.
To be part of this word phenomenon we invite you to join us to compete in the Grenfell heat of the Australian Poetry Slam. Imagine two minutes in the spotlight. No props. No Music. Judged by the audience. Just you and your story. We can see you there!
Alternatively you can come along and take your possible place as a randomly chosen audience member to partake in judging the unparalleled competition on the day. The Poetry Slam has been held at the Railway Station in the past but this year it moves to a new larger venue to provide more shelter from the elements and to expand on it's increasing audience. This event promises to be a show stopper.
Date: Saturday, June 9th, 2012 Time: 3pm - 5pm Location: Uniting Church Hall, Camp Street, Grenfell Cost: Entry By gold Coin Donation
www.australianpoetryslam.com
Coordinator Information Carly Brown p. 02 6343 1248 e. poetry@henrylawsonfestival.com.au For more details about the Henry Lawson Festival at Grenfell to: http://www.henrylawsonfestival.com.au/events-and-entertainment/events-and-activities/poetry-slam
[caption id="attachment_2135" align="aligncenter" width="160" caption="Storyteller Candy Royalle performs"]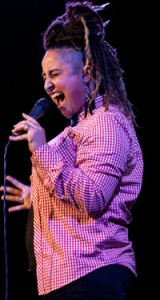 [/caption]
Pictured Candy Royalle Photograph Courtesy: Nicola Bailey Photography.